"No More 'Lizard King' Cases, says Minister"
That is the headline of this recent article in the Malay Mail.  The Minister is  the head of Malaysia's Ministry of Natural Resources and Environment and The Lizard King he refers to is Anson Wong.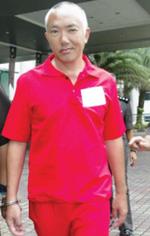 The steps taken in the wake of The Lizard King case–legislative reform, administrative reform, the punishment of Anson Wong–are exactly what was needed to begin to clean up Malaysia as a trafficking hub.
What is still missing, however, is action.  Especially by Malaysia's law enforcement body, Perhilitan.  What the Minister wants the public to believe is that Perhilitan will prevent more Anson Wongs from rising to power.  Alas, a number of major operators are trafficking endangered wildlife in and through Malaysia right now.   Where are those Lizard King Cases, Minister?
Minister Douglas Uggah Embas should have said, We will have many more Lizard King cases–all it takes–until Malaysia has purged itself of illegal wildlife traffickers.
Tags: Anson Wong, Douglas Uggah Embas, malaysia, Marhalim Abas, Perhilitan, Wildlife smuggling