Wednesday, July 7th, 2010
Recently, I had an opportunity to visit Sarawak, the Malaysian side of Borneo, and to spend time with a "primitive" tribe of nomadic hunters known as the Penan.  The Penan are what you might think of when you think blowguns, spears, and a lost world.  The villages I visited had until recently required a week of hard travel to reach–by river boat, hike, more river boat, more jungle hike.  But now, owing to a combination of logging, which took hundreds of sq. Kms of trees, and oil palm farms, which burned what rainforest was left over, I reached my first Penan village with a good four wheel drive and alot of dodging of logging trucks, in less than a day. 
What threatens the Penan, is logging and oil palm, but the worst threat is their own government, which has launched a series of massive dam projects, and displaced indigenous peoples, moving them into resettlement camps. 
Sarawak has two particularly large dams underway, the BAKUN, which, I'm told, will flood an area several times the size of Singapore, and Murum, which will flood another vast area of rainforest.  For ten years the government has been forcing indigenous peoples out of the impending flood zones, housing them in some of the worst, government-built, rotting plywood and no-septic facilities I have ever seen (and I have seen some doozies). 
Lucky families are given 3 acres (per family) to farm several miles from their abysmal homes, a distance too far for the elderly to walk, and so they visit from time to time land that does them little good.  The Penan have it worse. They have no farming culture.  They have lost their jungle and so sit in longhouses, hacking and coughing with leprosy, tuberculosis, and a host of other diseases so bad that you can hear a village coughing before you see it.  Women and girls say they are being literally raped by logging employees.
Is the government doing anything about this problem?  Below is the story from the government's perspective, appearing this week in the Borneo Post.  The Government says the Penan are "in good hands."  Make no mistake, this is an extermination of the people in the dam area, entire cultures to be destroyed.  They are dying, rare is an old person in the resettlement camps.  Those I spoke with said they had no international  NGO support.  Local activists were overwhelmed.  Meanwhile, the Penan were eating tree leaves for food, and when they are not available, a woman told me, they ate the grass. 
I don't know who to say to contact, what to do to make a difference, but these people, whole villages, will surely soon be extinct.  Given the obviousness of disease, lack of food, and poor housing, one can only conclude this is an intentional extermination. 
I've spent the past few years looking at alot of commercial scale exploitation of wildlife.  I have seen some horrible stuff but nothing compares to what is happening to these fellow human beings.  (BTW, the plan I was told for wildlife in the flood zone is to let those that can, make a swim for it, I'm not kidding, and capture them at the perimeter.  Large mammals may make it, though the orangutans likely will not, and anything under 20kgs is likely to drown.)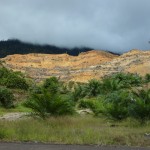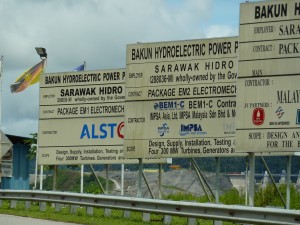 Here's what got me started, from the Borneo Post today.  Bakun is scheduled to begin flooding 2011.  Murum to follow.
'Penans affected by Murum dam in good hands'

by Kas Alwi Sepawie
July 3, 2010, Saturday

 
KUCHING: Malaysia Human Rights Commission (Suhakam) need not have to worry about the welfare of about 1,000 Penans who are staying within the construction area of the proposed Murum dam because the state government is in close contact with them.Land Development Minister Dato Sri Dr James Jemut Masing said any plan which the government had for the tribe would be tailored to the tribe's needs and suitability.

"We can't equate the Penans, who like to move around, with the Kenyahs and Kayans who stay permanently at a place. We are still studying the element of suitability," he told reporters when met after he had officiated at a tree planting ceremony at Taman Rimba Sama Jaya here yesterday.

Masing was commenting on a recent statement made by Suhakam commissioner Detta Samen. Detta said Suhakam was concerned about the welfare of the tribe who were affected by the dam project.

Masing pointed out that the government believed the resettlement programme could help change the life of the tribe to a better one.

"The government understands the needs of the Penan tribe, which are different from other Kenyah and Kayan tribes at Sungai Asap," he said, adding that the Penans would be resettled in a reservoir area spanning some 200,000 hectares.

He also called upon all logging and plantation companies not to encroach into the reservoir area within the vicinity of the Murum Dam.

"Forestry activities such as log cutting would only damage the reservoir area," he cautioned.

The construction of the Murum dam involves areas such as Long Singu, Long Tangau, Long Luar and Long Jaik.

When completed, the dam could generate 900 megawatt of electricity.