Posts Tagged 'Abdul Rasid Samsudin'
Thursday, July 7th, 2011
L'Express in Madagascar further exposes the link among Anson Wong and other Malaysian wildlife traffickers plundering Madagascar in this front page story today: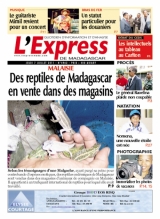 Wednesday, March 9th, 2011
A letter today in Malaysian press from Sean Whyte,, head of Nature Alert,calls for new leadership in Malaysia's Wildlife Department. Recall that Minister Douglas Uggah Embas vowed to reform Perhilitan last year, including rotation of top personnel. If history is a guide, these promises were designed to stop the public from complaining, but will not be put into full effect.
Sunday, January 24th, 2010
The following story was reported today by Malaysia's Hilary Chiew in The Star…. 
(To be seen is whether this is a meaningful reform or simply a shuffling of chairs .  One sign will no doubt be the result of the corruption investigation report referred to in the story.  Will it be an "Old Story" or a new one?)
 Jan 24, 2010, The Star
Minister to chair special wildlife permit panel

By HILARY CHIEW

PETALING JAYA: The issuing of special permits for totally protected species will now be decided at the ministry level following complaints of mismanagement and corruption at the Department of Wildlife and National Parks (Perhilitan).

Natural Resources and Environ­ment Minister Datuk Seri Douglas Uggah Embas, who said this, added that he had taken over the special permit committee chairmanship from the Perhilitan director-general.

"Previously, special permits were vetted by Perhilitan and referred to the minister for the signature. From now, I will chair the committee with guidance from top officials in the ministry and the legal officer.

"We realised that we need another body to cross-check what's happening on the ground. This is a new approach … We will include the views of non-governmental organisations to improve the system," he told The Star. (more…)